Essential Inputs Of A 5 Paragraph Essay Outline
A 5 paragraph essay outline is the most commonly used format for essays taught in schools and colleges.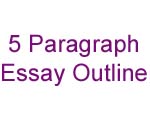 Most students are used to the format and can easily identify with a 5 paragraph essay format when they see one. It also means that adapting to the outline is comparatively easy. Essays would include five paragraphs – an introductory paragraph with the essay statement derived from the essay question, three body paragraphs that elaborate on the essay statement, and a short summary or conclusion. Over the years, several versions have cropped up with names like "three tier essay,"  "hamburger essay," and the more recent "painted essay" meant for elementary school children.
Introduction – The Crowd Puller
The 5 paragraph essay outline is more or less universal and followed by most academic institutions the world over. The main difference that would attract more readers is the introduction. Consider this example. An essay statement states "Will North Korea succeed is trying to revive its crumbling economy severely affected by economic sanctions?" This is a major question that would interest many readers. The introduction has generated interest among readers by offering a glimpse as to what is in store for them through the essay.
The Body Supports The Essay Statement
The essay statement would have generated interest among readers. The body of the essay must now elaborate on what was said earlier. Listed below are three examples in order of importance.
It is becoming increasingly difficult for North Korea it to come out of its dangerous economic crisis. In May 2010, South Korea revealed through a report that a North Korean submarine had fired a torpedo that sank its warship killing 46 sailors. This event further deteriorated chances of reviving trade with its neighbor.
South Korea has also declared several times in the past that it would not attack North Korea fearing a backlash from the international community. A 5 paragraph essay rubric would suggest that a situation like this would also further dampen North Korea's spirits. Already it has experienced a drop of 10.5% in foreign commerce, down to $3.41 billion in 2009.
Its missile and nuclear tests have begun showing effects. North Korea has lost existing good will with its neighbor through its recent act of aggression. To make matters worse, reports suggest that China is inclined to sympathize with South Korea over the same issue. If there is a change in Chinese policy, North Korea would find it very difficult to recover from damage caused by increased economic sanction.
These three points or body paragraphs elaborated on the essay statement and established the viewpoint that North Korea has very little chance of winning support through an aggressive and violent approach towards resolving problems. This type of essay format systematically establishes a viewpoint.
Establish The Viewpoint Through A Conclusion
The United States has asked North Korea to mend its way and stop aggression towards its neighbor. With more than 28,000 troops still present in South Korea, war seems imminent. It is foreseen that North Korea is likely to lose more trade and goodwill in 2010 with absolutely no chance of gaining international sympathy. The 5 paragraph essay outline can end with this bold statement which most readers would agree to.