Tips To Compile An Outstanding Application Essay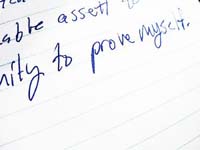 An application essay can define a student's career. We have heard this over and over again, but it is something that needs to be taken very seriously by applicants. A professional admissions panel would be going over the essay with the sole intention of choosing a select few from thousands of applicants that apply for admission. Students have to choose the right topic, write in an engaging style, and present the best picture of themselves to people they have never met before. Preparation of the highest order is required. Students also have to be prepared to submit applications to several colleges or universities that offer the study program they are interested in. The exercise has to be initiated at a predetermined time that would allow them to prepare adequately for the admission process including the college application essay. To write an outstanding essay, students can use the following practical tips that work.
Understand the requirements of the study program. For example, students applying for a medical degree program have to demonstrate a high level of understanding of the field. A specialized field would demand they to have a considerable amount of prior knowledge. It may not be included in the curriculum, but the vocabulary used would indicate a fair deal about the student.
To stand out in a crowd, one has to be unique in some way. The same principle applies to an application essay. For it to be unique, students have to use an engaging style of writing that offers admission officers something new to read about. A practical way to do this is to introduce the most powerful statement in the introduction. A statement like "After my high school, I decided to join the engineering field. I have had practical experience in the field of electronics by taking up a vacation job at…" Not only is this statement common but details would already be included in the application. Consider this approach. "It has been my life's ambition to set up a telecommunication center at my backyard. Learning how to operate the centrifugal water pump and fixing my satellite dish antenna came naturally…" The introduction presents an applicant who in interested in engineering. Interests and style of writing suggests an applicant with a technical bed of mind.
To come up with ideas, reference can be made to application essay samples. The admission panel may offer a topic on technology. Students have a chance to choose a sub topic that is a recent development. Type in the topic into a search engine, and it would offer a list of web pages offering information on the keyword. For instance, students could type in "recent breakthrough technology" into the search bar. The results returned may produce a sub topic that they may be interested in. Follow this up by looking for adequate examples that cover the sub topic. Ensure that the information is backed by sound research sources.
Compiling a common application essay is good preparation for a competitive test. It can be submitted to institutions that evaluate an applicant's claim to several member colleges. Students can seek help from ParamountEssays.com. it has mastered the art of writing application essays and offer students 100% original and unique essays that meet international standards.