College Application Essay Writing
Writing a good college application essay has become an essential tool at the hands of students striving to get into a college of their choice.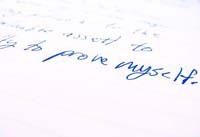 Students are unsure of their seat in a prestigious college, because there are elements that would test both objective and subjective skills including their writing skills. Getting tense about a situation is not going to get them far. It may at the most get them going at the right time, but sound preparation is still needed to ensure nothing is left to chance. Wouldn't it be just fabulous if students knew how to improve their chances of getting admission? By following the listed methods of improving on a college essay, they can definitely improve their chances of getting there.
Instead of getting tense at the time of compiling the essay, referring to college admission essay examples may provide more value in terms of understanding what is expected of students through the essay.
A process gets better over a period of time. Similarly, a college application essay would get better after students have read over it several times. A situation like this would be possible if the essay was compiled much before submission.
Describing an event creatively comes naturally to children. They can paint a vivid picture of a point of view, which sometimes tends to go beyond the normal realm of understanding. For example, it should ot surprise us when they describe their school building as being bigger than their home. The fact is not lost on the listener; but by describing it in such a manner, the child is presenting a simplistic point of view.
The same method can be applied while creating the skeleton of an essay. Identify ideas that apply directly to the essay question and then expand on them. College essay writing would often require students to write a personal statement based on their qualifications, achievements, or goals. The most important elements in each area would form the basic points which can then be expanded to form compelling content using personal experiences and aspirations for the future.
Very often, students are asked why they wanted to join a particular college or university. A unique reply would enhance their chances of getting admission. Similarly, other questions based on goals to be achieved, contribution toward a study program, or reasons for wanting to specialize in a particular subject can be prepared much in advance.
A unique and interesting writing style can make a vital difference. Students should be able to express themselves in an engaging tone that literally talks to an admission panel. A good essay is one that would stand apart from thousands of others submitted. Practically, students should have developed their own style of writing in school and fine tuned it to a level where it is consistently appreciated by an audience.
Seeking help from a professional writer is a good option, especially when students have to submit a competitive college application essay.  ParamountEssays.com has been serving the academic writing needs of students for several years with distinction. Experienced writers on their panel can work with each student to produce 100% original essays on varied topics.