Compiling A Great College Entrance Essay
Students often wonder what to include in a college entrance essay. It can be an interesting topic based on the essay prompt given to them. Most colleges are interested in knowing students through the essay rather than testing their knowledge. Academic results would qualify them for admission. An admission panel has to shortlist students based on standard parameters that all prospective candidates aim to meet with their application.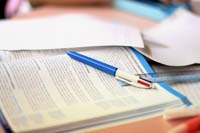 Therefore, colleges prefer students voicing their opinion on a topic. Their style of writing, the way sentences are constructed, and their thought process reveal more than answers to a set of objective questions could. The college acceptance essay would indicate whether a student could successfully complete the study program offered or not. Students need to understand how to attempt the essay.
The easiest way to go about preparing for the essay is to make a list of all the colleges that one would like to join. Let's say a student shortlisted 10 colleges. The next step would be to gather all the essay prompts offered as guidance by the respective colleges. Similar essay questions would appear in the list being prepared. Practice essays should then be compiled on the common prompts. The reason why this exercise needs to be completed is to get to a point where a common college entrance essay could be submitted to several colleges with some minor changes. Students do not have research often, as elaborate content can be accumulated for a batch of selected prompts.
Colleges expect students to submit their best college essay which contains original content. It is not necessary to write on a particular topic unless specified. Students can prepare themselves to write essays based on their personal experiences. The topic could be controversial, hard to believe, or even based on a futuristic hypothesis a student may have. It should make interesting reading, and the style of writing should interest readers. To arrive at a great college essay, inputs can be gathered from previous work which was highly appreciated by teacher and other students.
Using quotes at appropriate places demonstrates the willingness of students to learn from the masters. Students would like to begin their essay with a quote that readers would appreciate and connect with the topic being discussed. It is not difficult to arrive at such quotes. Again, students need to refer to the essay prompts collected earlier and research for several famous quotes on the topic. If it is included in the first few lines of the essay, the quote should encourage readers to continue reading in anticipation of a great college essay.
Seeking college essay help for the admission process is necessary to eliminate any doubts about inadequate preparation methods. Students may not get guidance on how to write a college entrance essay locally. They can hire online professional writers for this purpose. ParamountEssays.com specializes in writing essays based on prompts. They can take up an essay prompt from a candidate and compile a 100% original college entrance essay at short notice. The highly competitive essay could then be submitted. Students would have gain firsthand knowledge on how a professional essay is compiled.