Easy Essay Editing Methods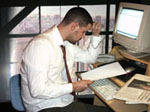 An essay editing exercise can be daunting if the right techniques are not used. Luckily, methods that produce a good essay can be developed into a simple system over a period of time. Most students may not have the luxury of time on their side, but they should follow methods that allow them to present a competitive and standard essay. It is just a matter of adapting to a simple system.
Good Essay Writers Are Also Good Editors
The process of editing starts after the essay has been written. Writers often have to edit their own essays before submission. They have to change their mindset and start thinking like an editor after the writing process is complete. Students can use the following tips to begin the process of effective editing.
Make sure the essay is devoid of grammatical and spelling errors. Most word processors have an inbuilt spell check feature. A neat trick would be to run the spell check after the essay has been finalized and does not require any more changes.
Make a conscious effort to use short sentences. For example, if the sentence written earlier is complex and too long, try and break it up into two or more short sentences. Readers would find it easier to relate to the context in which the sentence is written.
Improve vocabulary through the process of essay editing. It is much easier to add new vocabulary to written text as you edit it. For example, it is better to use direct language with forceful words in an argumentative essay. A word like "feels like" can be replaced by "shows."
Improve Scores Using Advanced Editing Methods
Post graduation students would qualify as a professional when they complete their study program. Improving writing skills is mandatory in this situation. The MBA essay editing process would be incomplete if readers cannot identify the essay with an expert. Here are some advanced editing tips.
The thesis statement is the most important statement in the essay. It has to be simple enough for readers to understand. Basically, it should answer a question readers have about a topic. Editors begin by ask a relevant question about the topic. The essay statement provides the solution, and the rest of the essay justifies it.
Another relevant question to ask would be if all the support statements or points that follow the essay statement link directly to it. A writer should not deviate from the main topic, as this would distract readers and may give rise to additional questions beyond the topic. The easiest system to follow is to write the essay statement first, develop a few ideas that support it, and then develop the essay.
Important essay assignments could make or break a career. Sometimes, it is better to seek the advice of professionals who use the essay editing process to come up with high-quality essays. ParamountEssays.com offers expert reviews on pre-written essays that can help students understand the process quite easily.