Some Essential Essay Writing Skills
Writers always wish they could develop better essay writing skills than they already have.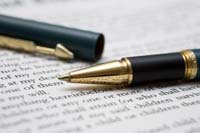 It is natural to feel inadequate when it comes to appreciating one's own writing. On the other hand, students have the advantage of using such inadequacies to learn how to write better through school and college. Education also includes developing as a better communicator. Writing is a medium that allows writers to express themselves without fear of reprisal. There is no one to check what they write. If people do not like what was compiled earlier, the author could go back and work on the piece till people find it interesting enough to read. It is this simple logic that is the essence of learning how to write better. Here are some essentials students need to know about how to develop practical essay writing skills.
The purpose of a piece of literature is to evoke a spontaneous reaction besides offering interesting information about a topic. Readers are interested in fresh information they haven't heard before. Students should therefore develop custom essay writing skills. In other words, they should be able to write boldly on known topics. If they are unfamiliar with a topic, research avenues are easily available that offer unique and recent information. Those who develop their own unique brand of writing would always tend to produce unique content even on unfamiliar topics or those that have been discussed several times before.
Subject matter experts are better writers, as they can indulge in free writing exercises. Imagine a situation where the author is an authority on a topic. Everything there is to know about it is already known. If this writer were to compile something new about the topic, it would attract many interested readers. Students need to adapt the same principle. They would argue that it would take them many years to reach that level. There is a need to begin at some point. Practice always helps develop writing skills faster.
Academic essay writing is easier than creative writing. The argument placed in favor of the statement is pretty straightforward. Students are more often than not given a topic to write upon. They have a list of research sources they can bank on. The exercise would be attempted by several other students at the same time. Some of the better essays are read out in class. It helps other students learn more about quality writing in a setup that is meant to teach. It is a win-win situation for most students.
How do they know if they're on the right track? If time is the yardstick to measure writing skills, faster completion of an exercise with same or better scores would indicate they are on cue.
There is a need to seek help from experts if any of these parameters are difficult to understand or if students find it difficult to review their own skills. ParamountEssays.com is an essay writing service with editors on their panel having many years of experience. Students can get their essay writing skills reviewed by professionals through a simple online process. They would have a detailed report that could help develop vital skills for more difficult academic assignments ahead of them.