Compiling A Good Term Paper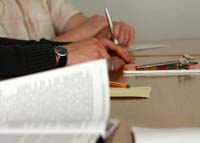 A good term paper can be considered as such if it includes all the right components to get maximum scores. A term paper is meant to provide students the edge in class to make up on scores at the end of the term. A good quality paper would follow basic rules of essay writing. It would contain a term paper cover, an introduction, body of the required number of paragraphs, and a conclusion. It would begin with an outline and culminate in the edited version containing a completed bibliography. Term papers have to be completed within the stipulated frame set in the curriculum. The project needs planning, methodical work done at the appropriate time, and a simple blue print to follow till it is complete. A good term paper would be complete in every sense.
Start With A Good Outline
Projects become easier to handle, if students have a system in place that is simple to use. An outline for a term paper gives them the opportunity to arrange content within it. For example, some students may not have decided on the exact topic they would like to pursue. By entering ideas into the outline, they are giving themselves a good chance of arriving at the right topic through research. Ideas for the cover page, introduction with the thesis statement, arguments to be included in the body of the essay, a rough conclusion, and a flexible bibliography that can be updated at different times allow students an easy and standard method that can be followed for all their written assignments.
A Good First Impression Can Be Created With a Neat Presentation
Academic papers have to comply with a formatting standard. If the APA term paper format is to be applied, the format should be followed from the cover page till the bibliography. Care should be taken to include all the parameters specified in the curriculum. For instance, a short summary may have to be included in the paper. Students should be able to fit it at the appropriate junction. The headline has to be striking enough to attract readers. Choosing a good sub topic after considerable thought has been given to it through the process of research is vital. Focus should be on verifying if the topic can be pursued to its logical conclusion and if it provides information of considerable value to readers.
Prepare A Daily Schedule That Can Be Followed
It is highly improbable that a project can be completed in a few days. Usually, it takes a whole term to complete a good term paper. A daily schedule includes simple steps to complete based on inputs required for the outline. A realistic schedule must be prepared considering the fact that students would have several other projects to complete within the same time frame. Concession should be made for failing to meet short deadlines by scheduling the project to be completed at least a week or two before submission. It is better to seek professional help in case students have any doubt about the competitive level of their term paper. ParamountEssays.com is a leader in academic writing that can produce A+ class solutions including editing for essays, term papers, and other academic projects.