How To Compile A History Essay
A history essay is written on a specific topic meant to inform readers about a historical fact. School students have to cover various historical periods in class. Written assignments would stretch over an entire term.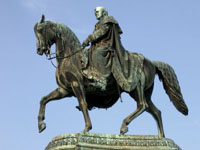 It is therefore important that students learn how to consistently draft an narrative on a historical event. An essay can be on any subject or topic, but the structure is more or less that same. It is meant to inform readers, express a point of view, or list step-by-step instructions on how to complete a task. The methods used may differ a bit but the structure remains the same. An essay on history would contain an opening paragraph with the essay statement. Historical data is recorded and facts cannot be changed. Therefore, the essay statement would relate to a fact in history. To make it more interesting, students can introduce the topic in an interesting way.
A good example of an essay statement on history would be "Did you know that some knowledge of prehistoric times will help you understand prehistoric medicine." Readers would be very interested in the topic if presented in this manner. Prehistoric societies could not write. This is the fact. How did they survive sickness and learn about medicine. It was done by memorizing things, natural selection, and by trial and error. History has recorded the same characteristics at a later date. The topic is interesting, but the essay statement should generate more interest in the manner in which it is presented. A GCSE essay would be written by high school students between the ages of 14 to 16. The approach used would still remain the same.
The body of the history essay contains the required number of paragraphs substantiating the essay statement. It would consist of recorded facts explained briefly. It is preferred that descriptive essay topics be chosen in order to present a story or narrative. It would be developed in the body after the essay statement has generated interest and described as a narrative in the body of the essay. Gathering content is quite easy once the topic is decided. Students can refer to text books, the internet, or historical books. These would be available in the school or public library. Another aspect students can consider is the use of pictures or audio recording offering a more detailed explanation of a recorded fact. A recording could incorporate events based on dates or present a more pictorial description that could not be included in text due to word count limitations.
The conclusion would basically summarize what was said earlier in the essay. A custom essay can be written to suit an audience. The writer must use writing skills to improve on a conclusion by adapting the same method. It should end in a manner that would encourage readers to learn more about the topic by visiting reference sites mentioned or should be enlightened on a topic they knew nothing about. A story ends when all the characters in it have fulfilled their role. Similarly, a history essay should culminate logically in the conclusion.