How To Assemble An MLA Format Term Paper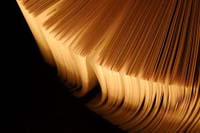 The MLA format term paper is a formatting standard used in academic writing by educational institutions. The style guide is very specific as to how the written text is to be entered into the term paper. Commonly available online, the MLA standard has been simplified through expert views on several websites that offer practical solutions on the style. It is mandatory that students understand how to use the standard, as educational institutes invariably need to adapt a common standard for all students. A term paper has to be structured in a methodical manner using guidelines specified in the style guide. There are some common parameters included both in text and in the bibliography. Basic guidelines have been listed for the benefit of students.
Download The MLA Style Guide Before Starting The Term Paper
Several handbooks and practical handouts have been devoted to the MLA style of writing. They explain practical methods to be adapted within an academic paper. For example, students can download the MLA Handbook for Writers of Research Papers (6th edition) or Style Manual and Guide to Scholarly Publishing (2nd edition). Both these manuals have detailed references to all aspects of an MLA research paper format. Many examples are quoted to make understanding easier. Following these standards at an early stage of the project helps students learn the process of developing their MLA format term paper faster. Students can also refer to hard copies available at public, school or college libraries. An online reference manual is easier to follow though as any chapter can be accessed instantly once the manual is loaded onto the computer screen.
Adapt To The Process With A Sample Essay
It has become very easy to understand formatting standards by actually following a sample MLA essay. Students can take short essays on the same topic and compile an outline using the same formatting methods. Care should be taken to verify the methods used in the essay with the style guide. For example, the author-page citation method is used in MLA essays, which specifies that the author's name and page number would appear after a quote. The name would indicate who the author is, while the page number would indicate where the quote can be found. Detail reference would be located in the bibliography or works-cited page. The sample would also clearly indicate spacing, font type and size, type of paper to be used, standard references appearing on all the pages like page number, etc. These can be directly adapted to the term paper without much understanding of details. As students practice the formatting methods used, they would be able to work around their own MLA term paper format without much difficulty.
Some Basic Formatting Values That Can Be Safely Adapted
An MLA format term paper can use a standard 8.5×11 inch paper.
The New Times Roman or Aerial 12 font size can be used in all the projects.
Pages are numbered on every page beginning with the first page. The author's name is included alongside the page number