MLA Research Paper Format Guidelines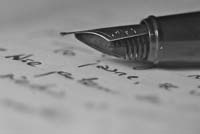 Students have to familiar with MLA research paper format guidelines to be able to compile a competitive paper. Many questions need to be answered such as how long should the paper be or whether a research paper format title page is required. What is a title page or works cited page and what information is supposed to be included in it? These are parameters that need to be fulfilled. If a researcher is familiar with all the requirements, the process of compiling the paper becomes faster and easier.
Basic Formatting Guidelines
The paper must be typed to make the paper appear consistent throughout. In most cases, a typed paper would be accepted and can be completed using a standard word processor.
Typing should begin on one side of the page.
Text should be double spaced.
A 10 or 12 point type and a standard font like Arial or Times New Roman can be used.
Margins should be set at 1 inch all around unless otherwise stated.
Parenthetical in-text documentation is to be used.
Credit has to be given to the sources of quotes, paraphrases, or summaries used in the MLA essay text by listing them out in the works cited page.
A Typical Title Page
A title page using the MLA research paper format should include a title and/or sub title separated by a colon. It should appear around one-third the page from the top and should be center-aligned. Below this would appear the student's name followed by the study program details, the professor or guide's name, and the date of submission.
Working On A Set Outline Simplifies Things
Students are used to creating outlines for their essays. But a set research paper outline allows researchers to fill in words at the appropriate hierarchical level, which can then be expanded into full sentences and research paper paragraphs using the ideas listed. An example is listed below.
I.  Introduction
A.  Support information
1. Sub details
a. Micro details about sub details
(1.)
(2.)
(a.)
(b.)
b.
2.
B.
2. Body Of The Paper
The same outline can be used for the body and conclusion as well. The thesis statement would be finalized after primary research has been conducted on a chosen topic.
A Simple Works Cited Page
It consists of a list of all the works used in the research paper. The works would be listed in alphabetical order using the author's name first. If the author's name is not mentioned, the title of the work can be used and placed in alphabetical order between authors.
An example
Last Name, First Name. Title of the Book in Italics.  City of Publication:  Publisher's Name, publication year.
Some Practical MLA Research Paper Format Tips
If an author's name is included in the text, only the page number can be included in parenthesis. The process continues for all quotes of the same author.
A research paper is called as such because students have to include researched content in the text. It should logically be a combination of direct quotes, combination notes, paraphrases, and the writer's own point of view.