Compiling Our Day Out Essay
An Our Day Out essay would reflect the thoughts of the writer Willy Russell about school life at the time in Liverpool, England. The play was written in 1977 and later went on to become a full length stage musical. It is all about the excitement a school trip can create among children in a progress class. Discipline is a part of every student's life. Illiterate children in a remedial class are given a chance to experience an educational tour under supervision.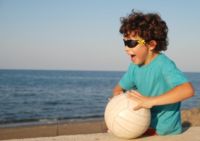 Mrs. Kay is a kindhearted teacher who tries to bring some joy in the children's lives by extending an educational visit to a castle in Conway into a picnic. Susan and Colin, two junior teachers who also love each other, are there to assist her with them. As a last resort, the headmaster also appoints Mr. Briggs, a strict disciplinarian, as the trip supervisor.
The children in the Our Day Out essay are deprived of real education. They live in the backstreets of Liverpool and face a bleak future. The trip is a real-life experience for them of how school children are exposed to educational trips. Mrs. Kay believes in imparting practical education to children in her progress class. A creative essay would highlight the subtle methods she uses to gain sympathy for the children. She is a "mother figure" to the children who learn to respect her just because of her genuine concern and love for them. An essay on discipline would depict Mr. Briggs as the typical disciplinarian who only understands the language of systematic study. He believes all children should appear for their exams and pass in flying colors. Those who do not fall in line and adapt to a disciplined school life are no-hopers according to him.
Forty one scenes are used in the play trying to recreate the lives of children and the role grownups had to play in them. In one scene, Carol is shown walking the streets wearing her school uniform. It is the only decent dress she has. Life in the backstreets of Liverpool was a tough grind for most people when strikes were quite common in the docks and industries. People were deprived of basic amenities and had to fight for meager food supplies. The progress class is typical of the type of education children from a poor background would expect to get. Different scenes in the play depict sympathy generated and felt for the children. Mrs. Kay, the bus driver, and even Mr. Briggs seem to identify their role in making life easier for the children.
All the scenes are recreated to describe how things would appear pictorially. Students compiling a literature essay would have a field day describing how the bus carrying the children looked. At the end of the Our Day out essay, people would have realized how children and teachers responded to small triggers that brought out different reactions in the play. The children did get some respite from their daily routine by spending their day out.