Basic Research Paper Requirements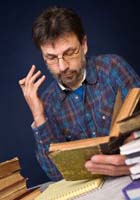 Research paper requirements are basically established to ensure that it follows a set pattern where a student uses lively and intelligent writing to inform an interested audience about a topic. The basic requirement is that writers attempt research on new topics or topics they have no prior knowledge or experience about. A completed research project would demonstrate a researcher's sharpened perception of a problem. A good researcher would be able to find the right resources for gathering content that helps in constructing ideas and presents a coherent and logical flow of information. Students must document all findings in a research paper outline APA format or any other format specified by the guide.
General Research Essay Requirements
Irrespective to the style of writing to be used, there are several common parameters that have to be fulfilled in a research paper.
A title page is necessary including the writer's name, course details, date of submission, and college/university name
Headings and subheadings within the text
Introduction with the research statement
Body of the research paper with required number of paragraphs
A summarized conclusion
Reference within the text should be reflected through in-text citations, footnotes, and endnotes
An annotated bibliography with works cited offering reference to both primary and secondary sources
Basic spacing, margins, and indentation.
Researchers are expected to know the required style guide to be followed. Generally, the paper would be written using the APA, MLA or Chicago style.
The Process Of Compiling A Research Paper
The style formatting guide would determine the approach needed to write the paper.
Data collection is the most important part of the research process, as it enables students to form an opinion about the topic and locate the sub topic that would help in framing the research statement after formulating the hypothesis based on the main topic. An example of this would be an analysis of a literary work. Students would begin primary research on the literary works to be analyzed till they find the sub topic they are looking for. At this stage, the preliminary research statement would be drafted for research purposes. Secondary research is initiated from different offline and online secondary resources. The onus would not be to gather information on the sub topic and record it in the outline or works cited section.
Flexibility is the key to success in compiling a logical paper. Students must be ready to use points or sub topics to find information at different times. An essay is not much different than a research paper, except in terms of its length. The ideal way to go about the process is to compile research paper paragraphs on each point separately. Students who succeed in assimilating data and combining it to form a free-flowing concise paper with all the elements in the right place would be able to assemble an informative project.
Reference Material Should Be Clearly Cited To The Original Sources
Researched material must be clearly recorded using the required style guide to avoid getting into trouble with the authorities. Research paper requirements have been clearly outlined, which must be followed by students to avoid plagiarism.