Term Paper Guidelines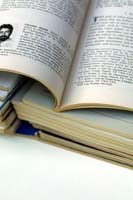 Term paper guidelines are meant to help students compile research-based content by offering tips on how to interpret essay questions, research and analyze the gathered content in order to use the most relevant information. Writing a term paper with the intention of presenting a thorough understanding of the subject covered over the term is very important, as it helps in increasing final grade scores. It is submitted at the end of the term, which allows students to understand the process and devote ample time towards presenting a flawless paper. Guidelines have to be followed in order to form the structure and prepare an outline that incorporates the requirements listed. Formatting standards have to be consistently applied throughout the paper. Students should be able to successfully implement these details within the assignment. Term paper guidelines also include the order in which content is to be presented. A brief outline explaining standard elements and categories likely to be included in the guidelines have been listed below.
Basic Formats That Can Be Included
Term papers have to be written using the specified style guide. However, basic formatting standards have to be understood and applied for all projects.
Text would be double spaced.
The font generally used is Times New Roman or Aerial, size 12 points.
A one-inch margin is maintained for the pages.
Compile around 10 pages of content excluding reference sheets.
Term paper cover page format would include a title, student's name, course details, and date of publication.
An abstract of around 100 – 150 words can be included.
Proposals have to be submitted for research studies.
References in the form of bibliographies and/or foot notes have to be provided.
Using A Table Of Contents
A table of contents is a useful tool that allows students to add content as per its relevance. Decimal classification or mixed alphanumeric classification can be applied for division. The table of contents is the skeleton that is used to form the outline for a term paper. A practical way of representing data is introduced where text is included along with page numbers. Headings for each category occur on the same page allowing students to add or delete content during the entire course of the project. Categories of equal importance are placed at the same level. Subcategories would appear at the lower levels. Categories and sub categories include individual points listed under them. At different times, students would be able to understand and measure progress made in the project. It would also allow them to go directly to the required category to add or delete content.
Pay Attention To Mandatory Requirements
Students may have to discuss their topic with a guide or teachers. The term paper guidelines would specify the requirements. For example, a report may have to be submitted containing preliminary research information and reference points. An outline can be prepared that includes the information as well as the general direction the term paper would follow. ParamountEssays.com can help interpret and implement guidelines. Professional writers can write error-free term papers meeting international standards.