Term Paper Layout – Methods Of Usage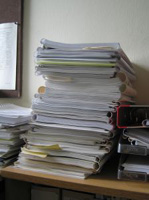 A term paper layout is the structured way of compiling a term paper. Visible success is important in academics. A written project becomes competitive when students succeed in being among the best in class. It may seem difficult to achieve such results on a consistent basis. However, with a system in place, students can compile essays, term papers, dissertations, and research papers of high quality. Subjects may change, but methods used to prepare the draft, research, and formats follow definite patterns that students need to follow to meet with success. A written project is not about trying to remember facts. It is not a test of intelligence but the process of putting together content in a definite and consistent manner. A good layout follows term paper guidelines and assembles all the elements that go into making an excellent term paper.
What A Layout Does
The term paper layout first gives shape to the plan prepared by students. A plan includes time schedules, format guidelines, word count, structure details, research source details, initial bibliography, sequence of entering content within the outline for term paper, and arguments or ideas developed through the process of research.
It contains the introduction with thesis statement in a flexible state. In other words, the statement may be finalized at the end of the project, but a firm idea is decided which helps in research and developing the structure of the term paper. The body contains arguments expanded into separate paragraphs. Finally, the conclusion reiterates what has already been elaborated upon.
Each section can be tackled separately. For example, students may find information related to one of the arguments in support of the thesis statement. A paragraph can be compiled using the research content and placed at the appropriate junction within the layout. As and when further content on other sections are developed, it can be added to the layout in the proper order. It must be noted that the exercise extends through several months. The layout allows students to work from where they left off with the use of time scales and cross references.
A layout is commonly used by academic institutions, which allows students to use a standard one that helps explains how content is to be entered. Students can follow examples approved by teachers. They would be available in the school library.
The outline for a term paper can be prepared quickly using a word processor. Technically inclined students can prepare text files and then combine them to prepare a draft. For example, each argument could go into a separate file which holds information related to it. Other files could include the table of contents, abstract, vocabulary, or research-based information. Some amount of practice is all that is needed to prepare a term paper layout. Once students have mastered the process, it can be applied to any term paper. ParamountEssays.com can help in providing a complete term paper following the latest layout methods used internationally. An assignment can then be used as an up-to-date sample for future academic projects.