What Is A Research Paper Outline – A Student's Viewpoint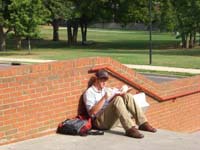 The questions "What is a research paper outline?" is often asked by students starting on their first project. Readers are also often not sure if the topic covered could be understood easily or not. Basically a research paper is a detailed study of a topic not attempted before. It could be a sub topic that needs to be researched more to establish the theory behind it. An outline helps students prepare grounds for a research essay topic to be studied further. It offers basic information that can be expanded into a complete thesis or research paper.
The basic formation remains the same. It has to have an introduction with the essay statement, a body containing arguments or points that support it, and a conclusion that summarizes the information in the last few paragraphs. The style of writing needs to be established throughout. For example, a research paper outline APA format would be used for research topics in social science. Students can develop arguments or points on a topic. The research statement can be decided upon during the process of research with the help of a research guide. Basically, an outline can be built over time.
What Is a Research Paper Outline? Methods Used To Understand The Process
Let us go into the details of understanding and forming the paper outline.
The outline is supposed to create a map that unravels into logically-arranged information that could be easily understood by readers who come across it. The simplest way to create the outline is to use a fish bone diagram. In other words, work on the main topic and extend each argument or point into extensions from the center. Think of it as a way to create a cause and effect diagram.
The framework should be organized in a way that allows addition or deletion of information. In other words, the fish bone diagram organizes content in a logical and visible manner where each part can be expanded into a separate paragraph which can then be added at the appropriate junction in the research paper.
Consider an outline for a term paper. It would take many hours of research conducted over a period of several months. A good outline would offer an overview on a single page which gives students an overview of content collected till date.
Working on each point at a minute level allows students to work logically. For instance a point could extend into several sub points. It would be easier to replace sub points based on relevancy. A more valid sub point could replace one that is less valid without disrupting the logical flow.
Connecting Content To The Research Statement
Research guides often insist that students offer a statement stating how they would go about a project, methods used to research, and a broad outlook on what they hope to achieve. In such cases, the basis of preparing the research statement would require students to summarize methods to be used in reaching the result. It is the ideal way to arrive at the optimum research statement. By following these simple methods, students would not have to ask the question "What is a research paper outline?"