Great Expectations Essay Analysis
A Great Expectations essay can be taken up as an exercise to analyze the complex character of Pip, an orphan who does not recognize true friendship but finds himself at the very end when he is free from arrogance.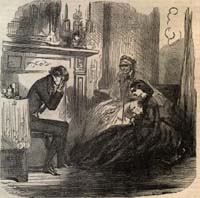 Written by Charles Dickens, this book was first published in 1860 and became such a hit that it was staged as a play and adapted into a movie several times. Pip is an orphan who lives in Kent with his cruel sister and her blacksmith husband Joe Gargery.  On visiting his parents' tombstones, he is confronted by an escaped convict Magwitch. Pip is forced to steal food and a metal file for him. The scene ends with Magwitch being recaptured. The literature essay must highlight the fact that this one incident is the basis of Magwitch coming into Pip's life several times in his adulthood.
Uncle Pumblechook arranges for Pip to visit Ms Havisham, a wealthy but lonely woman. She has an adopted daughter Estella who is brought up in a strange way. Ms Havisham was ditched by her groom on the wedding day, and she cannot get over the fact that she was spurned. She wears the old wedding dress, and leaves the wedding cake on the table. Pip just cannot get over Estella even though she is haughty and ridicules him at the slightest excuse. The Great Expectations essay can present a vivid picture of how Pip feels when he finally gets a kiss from Estella after winning a fist fight with one of her relatives. Pip sees his chance to get closer to her and starts studying hard in the school run by his friend Biddy's grandmother.
The literature review writing exercise can now present times when mysterious benefactors start appearing in Pip's life when he joins as Joe's apprentice. First, he meets with a strange man in a local pub who offers him two one-pound notes. The second time an eminent lawyer from London brings him news of "great expectations." Thinking it was Ms Havisham who was the benefactor, he prepares himself to become a gentleman. In the bargain, he considers his relationship with Biddy and Joe unworthy and assumes money is everything. He leaves for London with high hopes and aspirations.
All goes well initially when Pip meets up with Herbert, the same old fistfight adversary. This time they become friends. The English essay must record how Magwitch was punished. He was actually banished to Australia never to return to English under penalty of death. However, he does come back with the hope that Pip would accept him when he learns he was the benefactor who cared for him. Pip is devastated that he is experiencing wealth on account of a escaped convict. He is now full of regret for having ignored the friendship of Joe and Biddle. He also understands how much Magwitch actually cared for him. Life finally provides a solution. Magwitch dies in jail on being arrested again. The Great Expectations essay can end on a happy note by projecting Pip as a humbled man who learns to accept life as it comes.