SAT Essays are written for the Writing Section of the SAT Reasoning Test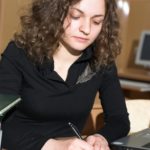 SAT Essays forms the first part of SAT reasoning test, formerly known as Scholastic Assessment Test. Time given for writing the SAT essay is 25 minutes. SAT Essay carries 225 marks out of a maximum score of 2400 in the SAT reasoning test. The essay measures the ability for developing a standpoint on a given issue, supporting the stand with reasons and examples, and uses the English Language skillfully to express ideas clearly. The essay has to be written as the answer for a given essay prompt. The first part of the essay prompt presents the issue and second part gives an assignment.
What is expected in a Good SAT Essay?
Students are expected to write an essay within twenty five minutes. The essay should be on a standpoint developed by the student responding to the essay prompt. It should demonstrate the student's knowledge on the topic. Logical flow of thoughts, clarity, coherence, and organizing of the essay are very important. To meet all these challenges students will have to use what they have learned in the high school curriculum, by reading and by personal experience. To score high marks students will have to practice hard by writing essays on similar prompts and reading a lot especially sample essays. They can get sample essays from a good essay online service.
Scoring high Marks for the SAT Essays
It is easy to score high marks for the SAT Essays by writing the essays on the guidelines given by the College Board, founder and administrator of SAT. Follow these tips to comply with their guidelines.
• Write about 400 to 500 words.
• Use examples from books used as texts or additional reading in the school.
• Write to the point. Do not write anything that is irrelevant.
• Organize the essay into paragraphs. Introduction, two or three body paragraphs dealing with one point each on your stand, and a conclusion is the accepted norm.
• Be very careful about the grammar.
Study the Past SAT Essay Prompts
Students can study the essay prompts from previous tests and get sample prompts and practice writing essays to get familiar with the essay topics. This is better than wondering about "how to write my essay?" Here is one of the essay prompts from a recent test.
"Think carefully about the issue presented in the following excerpt and the assignment below.
When we are young, we learn from parents and teachers that we should wait patiently for what we want. Few people would dispute the wisdom or truth of this teaching. Our society, however, with its mad rush and hurry and its insistence on instant gratification and quick responses, encourages and rewards impatience. Experience teaches us that we should not and do not have to wait.
Assignment: Is it better for people to act quickly and expect quick responses from others rather than to wait patiently for what they want? Plan and write an essay in which you develop your point of view on this issue. Support your position with reasoning and examples taken from your reading, studies, experience, or observations."
(Courtesy: College Board)
Getting Help in preparing for SAT Essays
Students preparing for SAT Essays can get help from a good Essay writing service. They can get essay writing tips, advice, sample essay prompts, sample SAT Essays etc from Paramountessays.com, the best essay writing service. They offer research paper help, thesis help and dissertation help also.